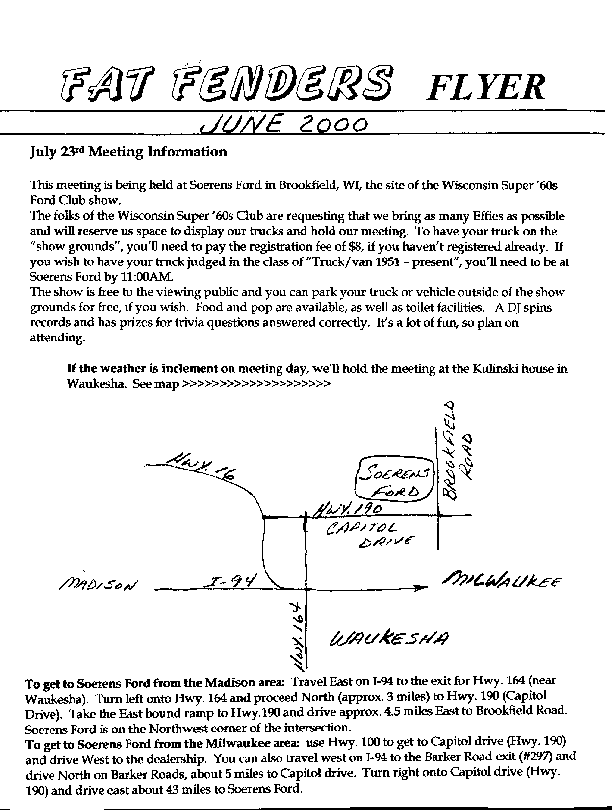 Badgerland F-100's Meeting Minutes
The June meeting was held at Randy & Diane Roelke's. There were 13 members, 9 kids and 7 trucks in attendance. Thanks Randy & Diane for your hospitality.
Officers present--Mike Sonn, President
Mark Favor, Vice President
Todd Showers, Treasurer
Cindy Favor, Secretary
Bob Kulinski, Newsletter Editor
Treasurer's Report - Todd Shower's reported that the Club has in the bank account.
Membership Report - New members are Joe and Diane Marchiando of Sheybogan. Welcome Joe and Diane!!!
Todd is updating the membership list, if you have any changes in your address please contact Todd.
Newsletter Editor - The first official e-mailing of the newsletter was sent last month. A few gliches but mostly went well.
Old Business
Progressive cruise is scheduled for August 19th. The stops will be as followed:
1st Dave Farmer (& Julie)
2nd Daryl & Paula Fedkenheuer
3rd Todd Shower (& Shari)
Last stop will be at the Burnett home in Caledonia for the August 19th meeting.
More info at next meeting.
Hot Rod Club membership -
Mike Sonn has info on becoming a Hot Rod Club member. The cost is $29.95 per member.
If anyone is interested give Mike a call.
By-Law change –
A lengthy discussion was held on the changing of the By-Law reviewed at the May meeting. A written vote was then taken and the change passed 10 in favor to 3 opposed. The new By-Law will read as follows:
Any show expense over $100.00 must be approved by the President and the majority of the club officers prior to payment.
It was also decided that the Treasurer will give an account of all incoming and outgoing expenditures at all meetings in order to keep the Club informed.
Club Shirts –
Randy Martin sent info: 60 Ash colored shirts with pocket, Club logo, and name for $14.00 or $17.00 embroidered per shirt.
Dave Farmer also reported he could print shirts for $3.00 per shirt plus $1.50 for logo on back plus $2.00 for name. Motion was made by Randy Roelke to get some Club shirts printed up from Dave. 1 doz Lg, 2 doz XL, 1 doz XXXL. Half of the shirts will have a pocket and small logo on front while the other half will have large logo on the front. The T-shirts will me made of a heavy weight material , Ash in color. Motion was seconded by Mike Connor. Motion passed unopposed.
Dash 11
Mike Connor asked for $66.00 for stamps. Dale Barrettte made a motion to give Mike the $66.00 for stamps, 2nd by Bob Kulinski. Motion passed unopposed.
Mike is still getting Door Prizes and expects more from the vendors that were at Back to the Fifties. 122 flyers were handed out at the Twin Cities show.
Hotel-
If you haven't got your reservation yet, please do so soon. If you are told there are no rooms ask to talk with Heather, as there are still Club reserved rooms left. So far, there are 38 rooms booked of the 70 we reserved. Some of the other hotel staff are turning people away saying they are full.
Food-
Chris Connor (Food Chair) wanted to know how much was spent last year and would like to have that much budgeted for this year. It was reported that $690.00 was spent last year on the subs, salad & beans. Randy Roelke made a motion , 2nd by Dave Farmer to spend up to $650.00 for food. Motion carried unopposed.
Every Club member is asked to bring desert. Please bring in a disposable container.
Van –
Once again Scott Jackson has been nice enough to offer the use of his Ford Expedition. Thanks Scott!! We still need some drivers though.
Kids Games –
It was decided to run the kids games from 10:30 to 11:30. Dave will donate magnets for prizes again this year. Thanks Dave!!!
Dash Shirts –
Dave reported we could order 125-150 pocket T-shirts for $6.75 for sizes through XL, plus an additional $1.00 for XXL or $2.00 for XXXL each. The Dash 11 t-shirt will have a 7 color logo on back and for an extra $1.00, the Club logo on front. We will charge $15.00 each . Mike C. made a motion to purchase shirts up to $11.00 each , 152 total, seconded by Dave. Motion passed unopposed.
Sweatshirts were also discussed. Dave will design and we will discuss further at the next meeting.
Friday Cruise –
Friday cruise will be taken care of by Mike & Dale. The cruise will leave at 1:45 PM.
Dash Plaques /Thank-you's-
It was voted at the last meeting to make 150 Dash Plaques. Motion was made by Mike C. and seconded by Randy R. to make 150 Thank-you's at $1.00/each. Motion carried.
Volunteers -
Still need more volunteers so please sign up or let Mike Connor, this year's Show Chair know. We still need a chair for Hot wheels and Valve Cover racing. Please help out where you can.
New Business
Once again the Badgerland F-100 s' Club came home from Winona with the Club Participation Award. We had 10 trucks there. Way to go guys!!!!!
Meeting adjourned at 3:55 PM
Submitted by Cindy Favor, Secretary
Upcoming Meetings -
July 23rd at the Wisconsin Super 60s' Soeren's Ford in Brookfield. In case of rain it will be held at
Bob & Linda Kulinski's. See directions located elsewhere in this newsletter.
August 19th Jeff Burnett in Caledonia, WI
June 6th, 2001 Scott & Nola Jackson in Benson, IL
Follow-up to the June 24th meeting
This reporter would like to report on an observation that was seen visibly at the meeting site. I was made aware to be on the look-out for something special when I arrived at the Roelke's homestead, and I must say, I wasn't disappointed. The something special I'm referring to is the reincarnation of an old blue F-1. This truck has found it's "lid" again and has been reworked into a very nice looking ride. You need to talk with Dave Farmer on how this metamorphose came about.
And speaking about Dave, you should ask him or Travis Beuthin about the cruise they went on after the meeting broke-up. You won't believe what I heard….
I also heard about one of our truckers out turkey huntin' on his way home from the meeting. Be sure to ask Mike Sonn about his encounter with a "northwoods peacock".
The Editor
CLASSIFIED ADS
Trucks For Sale
* '53 F100, 302 w/ C6 tranny, brand new interior, '72 Nova clip WFD brakes, new MP master cyl.,
American Wiring System, Vintage Air Heat/Defrost, Stewart Warner gauges, Aiwa stereo CD

player w/Sony speakers, new glass, exhaust system by Midas, Oak bed & running boards.

Painted in Corvette yellow with tan interior. Runs and drives great.

Asking $15,900 John Lunn 608-868-6227 3/00
* '69 F100, Styleside, 390 eng. (from 1975 vehicle), 3 spd. tranny, new radiator, rear air shocks, dual

exhaust. Bed in excellent condition, cab has 20% rust (floor). Fenders and doors starting to rust.

Have an extra hood. Split shaft needs to be replaced.

Paul Strehlow 262-654-1181 4/00

* '51 F2 pickup Partial restoration. Needs minor carb work 47K original miles Flathead six 4 spd

new running boards, interior panels and paint $5500 OBO can be driven

call 608-277-1212 days, 608-835-1555 eves 5/00

* '63 F100

shortbed, 302 eng., auto tranny, 8" rear end, Volare IFS, P.S., disc brakes, Alum.
wheels. Cab floor has been patched and new cab mounts have been installed. Includes an extra pair of doors. $2000 Greg Masters 815-796-2225 6/00
* '63 F100 Unibody short bed, 6 cy. Eng., 3 spd. tranny. Runs great and has the usual Illinois rust.

$ 900 Greg Masters 815-796-2225 6/00

* '63 F100

Unibody long bed, 351 eng., auto tranny, Volare IFS, 8.8" rear end, Air conditioning, tan
interior and bed cover. Drive it home.
$10,000 Rick Yarger 309-853-2010 (weekdays) 6/00

Contact Daryl Fedkenheuer regarding the following 3 vehicles 608-764-8012 6/00

* '55 F100

292 eng. (rebuilt), 5 spd. Borg-Warner tranny, Volare IFS, coil spring rear suspension,
chrome valve covers and oil bath, metal (lockable) tonneau cover, Mahogany lined bed, 6 way power seat, power windows, plus more…
'69 Ford Ranger ¾ ton, Selling complete less motor and tranny or part-out $500. Truck has re-
upholstered seat, alum. grill, chrome bumpers, topper, chrome trim and glass.
* ' 94 Toyota SR5 4x4 X-cab 63k miles, has every option available. $15,000 or OBO.

SPECIAL ARTICLE – "Stroking the 351W"

In this newsletter is a two part article "Stokers Wild" promoting the use of Fords 351W engine in our "Effies". The article is written by Jim Kelly of vice-president of Southern Ontario Classic Pickup Club of Ontario, Canada. Printed with permission by Gary Pratt. Thanks to Jim Kelly for writing such an informative article!

Parts for Sale

* Pair of rust free '61-'66 doors complete $175 Greg Masters 815-796-2225

* Fairlane fiberglass front fenders for '53-'56 F100. Never been installed $350/pair

Greg Masters 815-796-2225 6/00

* The following '53 F-100 truck parts are offered by Paul Zien . Call @ 262-279-5466 for prices

6/00

2 cabs, 2 hoods, 1 box, 6 doors, 1 '55 grille and lower valance, 1 frame bare (no suspension parts) and 1 frame with '77 Nova front stub and Dana 44 rear end.

Wanted

*

Looking for a clean floor pan for '61 unibody box. Any ideas???

Call Tim Joseph at 618-669-2674

4/00

* Will trade a C-5 for, or buy, a transmission for 1984 F-150, 300 6 cyl. eng.

Paul Strehlow 262-654-1181

4/00

* Drivers door '56 F-series, '55 F-100 window glass, '55 F-100 front fenders

Floyd Johnson 608-483-2594 or

fjohnson@mwt.net 5/00

* '73 – '75 F100 Ranger XLT long bed
Jerome Hofhenke 15860 228th Ave. Elk River, MN 55330
5/00

*

Any info. On conversion company in 1954 that made a 3 door crew cab (it's a F350 w/bed)
Rick Yarger Week days 309-852-0713 Fax 309-853-2010
6/00

* Steering box and Pitman arm for '53 F100. Also looking for all pieces of glass for cab.
Bob Everton 815-439-1431
6/00

Contact Bob Kulinski for advertising Classified Ads at (262) 542-6823 or 1722 Mohawk Lane, Waukesha 53186 or E-mail at ford54@execpc.com or fax with cover page addressed to me @ (262) 524-4376 Ads will be listed for only four months in a row, unless extended by request

Issues of importance -

Issues of newsletters, that is.

Please keep the following issues handy for your future use:

November '99 - listing of Club members with addresses and telephone numbers. (Member
issues only). The July newsletter will an updated Club roster.
January '00 - contains Club's By-laws.
Upcoming shows and swap meets for 2000
July 14-16 Show-Me F-100's 13th Annual Ozark Run at Branson,MO.
Contact Richard Hart @ 870-741-5551 or e-mail
rstuff@cswnte.com for info.
July 23 Wisc. Super '60s Ford Club Show and Swap meet at Soerens Ford in Brookfield, WI. Same day as meeting sponsored by Bob and Linda Kulinski of Waukesha.
August 6 Madison Classics Show & Swap meet at Walworth County Fairgrounds, Elkhorn, WI
August 13 5th Annual Vintage Celebraion at Botham Vineyards & Winery in Barneveld, WI
Show time is 11:00AM – 4:00PM $5 per vehicle shown, $4 per adult spectator, kids under 12 free.

Sept. 15-16 Dash to the Dells XI held at Lake Delton, WI

Host motel is the Copa Cabana. Call for reservations 1-800-364-2672

Sept. 23 & 24 Madison Classics Show & Swap meet at Jefferson County Fairgrounds Jefferson, WI
July 23rd Meeting Information
This meeting is being held at Soerens Ford in Brookfield, WI, the site of the Wisconsin Super '60s Ford Club show.
The folks of the Wisconsin Super '60s Club are requesting that we bring as many Effies as possible and will reserve us space to display our trucks and hold our meeting. To have your truck on the "show grounds", you'll need to pay the registration fee of $8, if you haven't registered already. If you wish to have your truck judged in the class of "Truck/van 1951 – present", you'll need to be at Soerens Ford by 11:00AM.
The show is free to the viewing public and you can park your truck or vehicle outside of the show grounds for free, if you wish. Food and pop are available, as well as toilet facilities. A DJ spins records and has prizes for trivia questions answered correctly. It's a lot of fun, so plan on attending.
If the weather is inclement on meeting day, we'll hold the meeting at the Kulinski house in Waukesha. See map >>>>>>>>>>>>>>>>>>>>
PLEASE NOTE

: Whether the meeting is Soerens Ford or at the Kulinski home, please bring your own chairs and beverages. Food will be available at Soerens Ford or we'll order pizza if the meeting is held at the Kulinski home due to inclement weather.